the challenge
Reduce plastic-waste by giving dog-food bags a second life.
THE DOG-OWNER'S TRUTH
It's easier to change my habits if I don't have to change my routine.
THE SOLUTION
A dual-purpose bag to clean up two problems with one product.
Doggos, puppers and good boys are contributing to the country's plastic waste crisis. In 2015, the U.S. shipped 26 million tons of plastic to landfills, much of which comes from unrecyclable plastic pet-food bags. And since 2018, China no longer accepts U.S. plastic waste — meaning there's nowhere for Fido's leftover food-bag to go.
Like how do we develop a sustainable, immediate solution that works across dog-owners of all breeds, incomes and lifestyles? And how much do dog-owners really care? To dig in, we visited pet stores and animal shelters, interviewed and user-tested 12 dog-owners and conducted a survey of 28 more.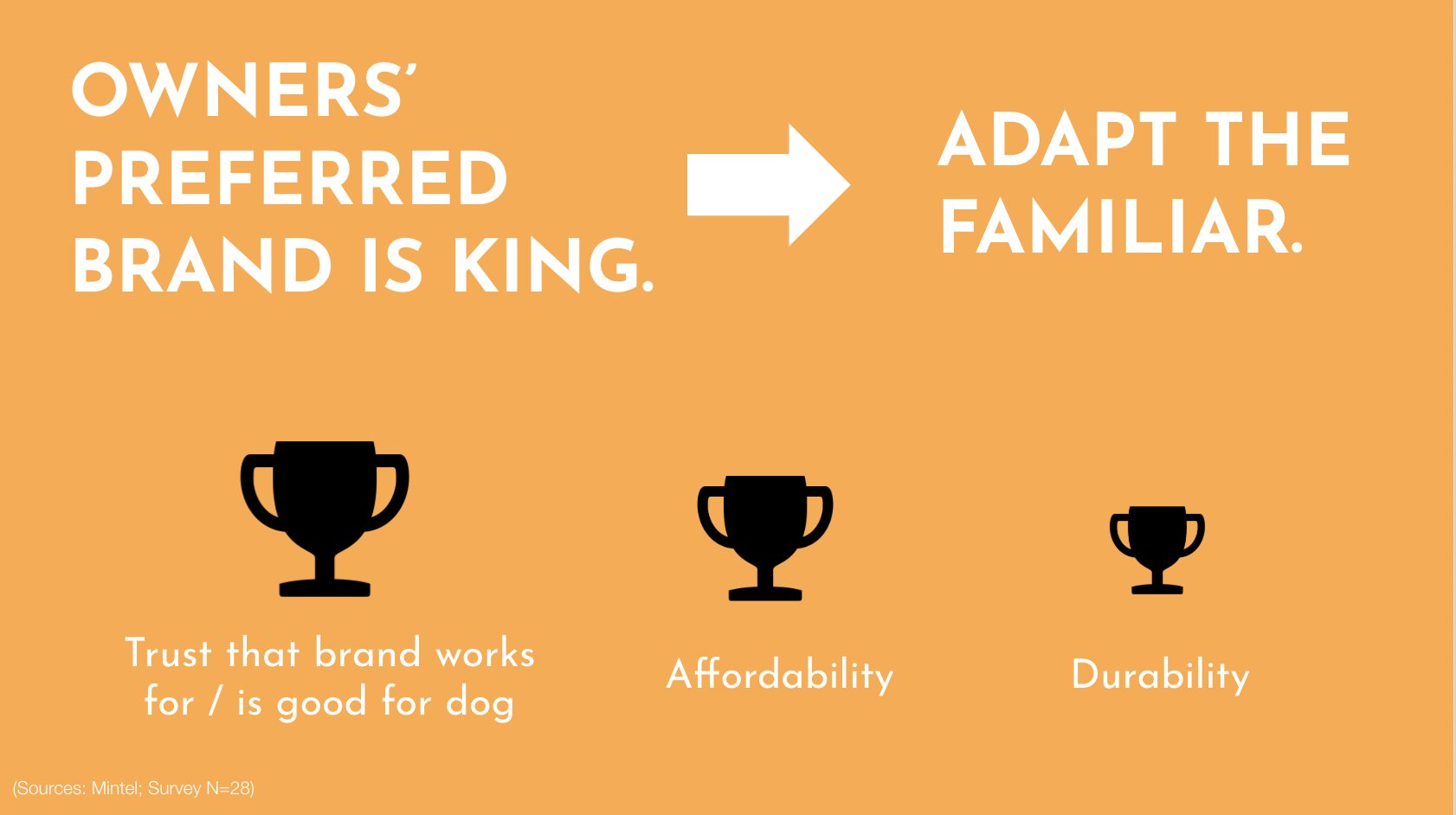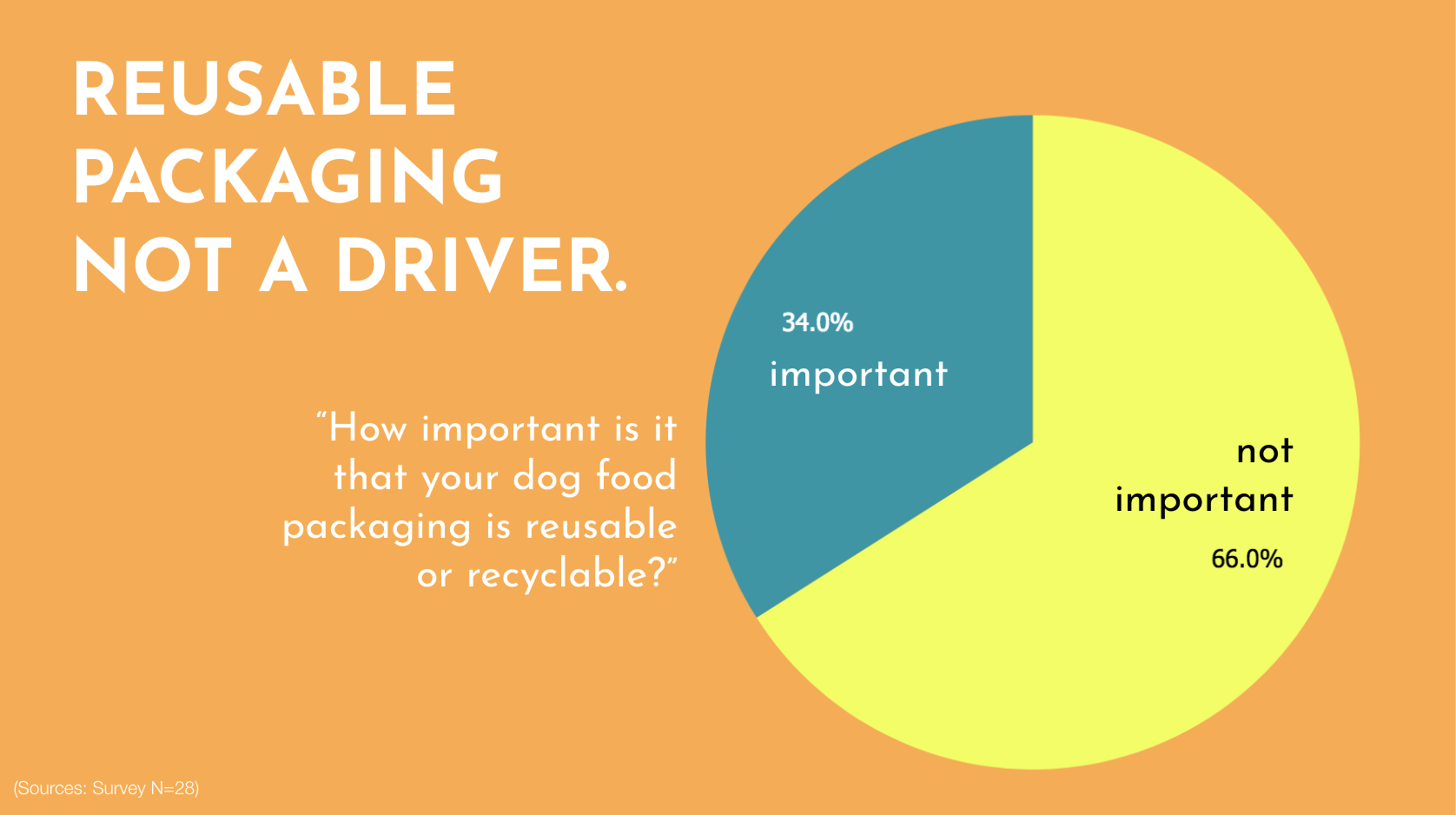 STICK WITH WHAT DOG-OWNERS KNOW.
From nutrition requirements to allergies to upset stomachs, many dogs require specific feeding routines. Owners rarely deviate from their chosen dog-food brand because they know it works for their dog, so a solution with mass appeal will have to adapt a brand/product owners already trust.
LIVING GREEN CAN'T BE A CHORE.
Reusability is a bonus, not a driver for purchase. The ability to reuse a dog-food bag, and its eco-friendliness more generally, pales against higher priorities like price and durability—even for dog-owners who value environmental sustainability.
dog-food bags are 'undesirables.'
Whether owners abandon the dog-food bag for a more attractive container, hide it away in cabinets and closets or use it as a garbage bag, the bag is limited to one role: thing I don't want to see, smell or think about until feeding time.
SO WE TURNED TRASH INTO A TOOL
by redesigning the standard dog-food bag into a dual-purpose food- and poop-bag that cleans up two problems with one product.
HOW IT WORKS
Maintaining the structural integrity of the existing food bag, we perforated the outer plastic layers to form 20 tear-away dog-poop bags while the inner paper layer ensures structure and durability. Poop bags can be turned inside out to scoop waste and sealed with a sticker to tuck it away during walks.
WHY POOP?
We're running out of good ways to scoop poop: stores are increasingly phasing out the plastic grocery bag, while poop left to the earth contributes to 20-30% of bacteria in our water. Even biodegradable bags do more harm than help unless they're composted; when left to landfills, toxic methane from our pooch's poop escapes into the air.
mobility
Poop bags roll down and are sealed with a sticker to keep waste cleanly tucked away during dog walks.
2. DURABILITY
Keeping the middle lining (paper) of the bag intact maintains structural integrity, while the external perforated layers act as a guide for tearing the poop bags.
3. CLEAR USE
Instructions on the side of the dog food bag provide clear steps for tearing away individual poop bags.
ACTIVITIES: store and shelter visits / 12 in-depth interviews / 28-response survey / user testing with 9 dog-owners / secondary market and issue research